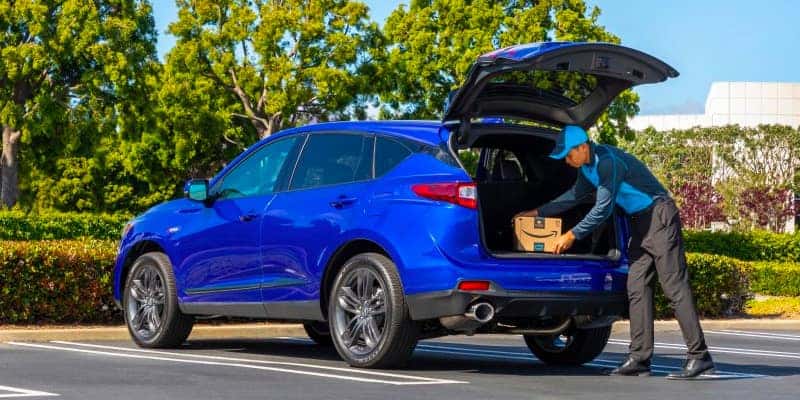 Getting a package delivered has become a tricky situation with the rising number of porch pirate pillaging shipments. Amazon.com and Acura are teaming up to help keep your shipments safe with the RDX's new Key by Amazon In-Car Delivery option.
With this new system, Amazon.com shoppers who also own a 2019 or 2020 RDX can have their orders safely placed in their vehicles in 50 cities and their surrounding areas.
Acura RDX owners with a subscription or trial subscription to the AmazonLink Remote Package and Amazon Prime can download the Key app to their smartphone to gain access to this in-car delivery system. The owner can then authorize access to your Amazon account and set the delivery address.
When you place an order, simply use the "In-Car" delivery option at checkout. Once delivery day rolls around, simply park you RDX within two blocks of the address you set, and Amazon will provide you with a four-hour delivery window and an "Arriving Now" message when the driver is heading to the vehicle to make the delivery.
The driver will locate the vehicle via GPS, scan the package and request the vehicle be unlocked when he or she arrives. The driver will then put the package in the vehicle and request the vehicle be locked again. Once the driver finishes the delivery, you will receive an alert that your package has arrived.
Ready to tackle the roads of the Rochester area and keep your packages safe? Swing by Acura of Rochester serving the Pittsford and Fairport areas today to test drive the 2019 Acura RDX. Can't make it by for a test drive today? Navigate to our online inventory page, find a few in-stock RDX models that suit your needs, and schedule a test drive at your convenience.