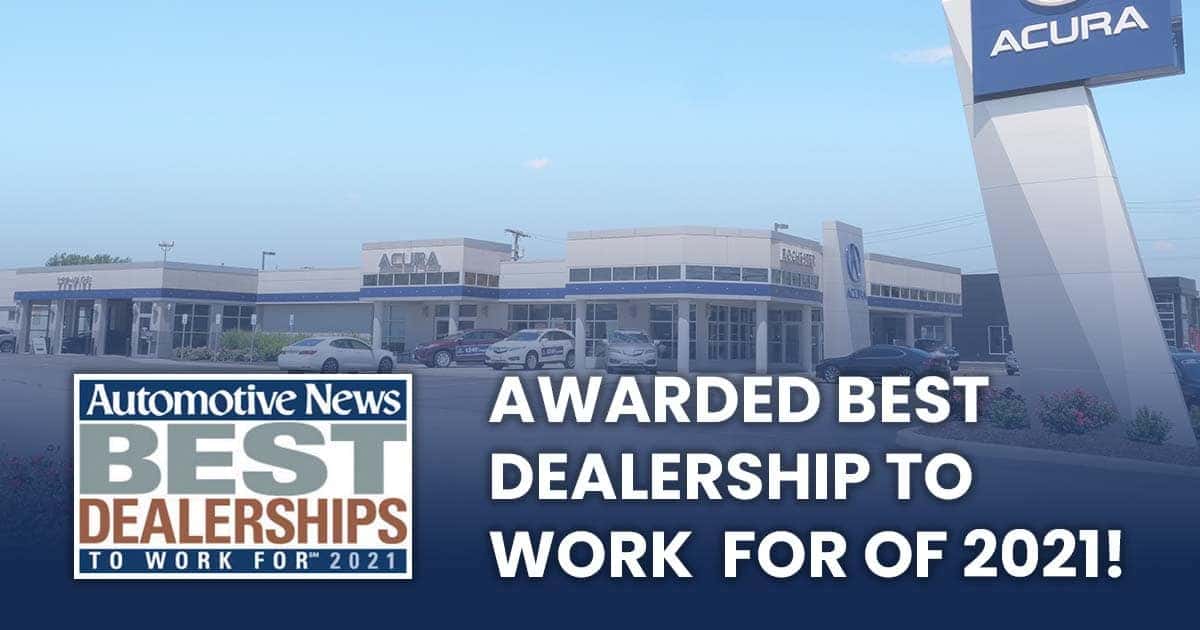 Rochester, NY – Automotive News has named Acura of Rochester one of the nation's best automotive dealerships to work for: a prestigious title given to select dealerships across the nation.
The "Best Dealerships to Work For" list honors dealerships' commitment to cultivating a positive work environment and achieving amazing employee satisfaction. Only the top 100 dealerships in the entire country are named to the list.
To be considered for this honor, dealerships must go through an in-depth nomination process. Winners are selected based on employee survey responses, as well as community involvement and intentional efforts to communicate appreciation and recognition within the workplace.
Kevin Parker, managing partner and general manager of Acura of Rochester, said winning this award after a year like 2020 is especially meaningful.
"We are honored to be awarded with this recognition, especially during a year of unprecedented circumstances across the world and the automotive industry," Parker said. "We adapted and pivoted in new ways, always continuing to prioritize our team members' and customers' well-being. We strive to create a culture here at Acura that is a welcoming place to work, and it is both exciting and affirming to have our efforts recognized."
Team members from the Acura of Rochester dealership will travel to Chicago to celebrate the achievements of this year's Best Dealerships at an awards dinner gala on Tuesday, October 19.
Acura of Rochester, located at 3883 West Henrietta Road in Rochester, is a proud member of Garber Automotive Group: a family-owned company based out of Saginaw, Michigan. In addition to Acura of Rochester, Automotive News has named nine Garber-affiliated dealerships to the "Best Dealerships to Work for in 2021" list.
Garber Management Group is the umbrella organization for 23 new-car dealerships (seven in the Rochester area) that represent 16 franchises across six states. The company is currently one of the top 20 largest privately held companies in Michigan outside of Detroit.
For more information about Acura of Rochester, visit acuraofrochester.com